Get Post Great Grains Cereal for $2.00
Post Great Grains Cereal has a new look!  A more modern packaging with clean lines and bright colors (see below).  Quite the departure from the old cereal packaging.  Great Grains cereal is on sale at Safeway for just $2.50 through 1/29.  There are a couple of coupons out to bring the price down even further to just $2.00 a box.  There are some premium cereals that just don't break the $2/box cost and this is one of them.  I love to have Great Grains with yogurt fresh fruit and make yogurt parfaits!  So delicious.  This is normally $4.29 a box at Safeway, so you save 53% on this premium cereal.
Post Great Grains Cereal on sale for $2.50 through 1/29

Print and use $1.00 off 2 Great Grains Cereal Coupon (2 prints available)
or clip and use $1/2 Post Honey Bunches of Oats, Pebbles, Great Grains, Grape Nuts, Shredded Wheat, Raisin Bran, Bran Flakes, Honey Comb, Golden Crisp, Honey Graham Oh's, Waffle Crisp, Alpha-Bits or Good Mornings, exp. 1/22/17 (12/11 SS)
Final price = $2.00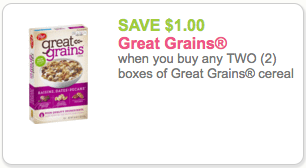 SuperSafeway is a blog devoted to helping you find the best deals at Safeway in the Denver division.  Every week we find and share the best advertised and unadvertised deals at Safeway with and without coupons.  We also share recipes and weekly meal planning ideas based on sales to maximize your savings.  For more low prices, check out Super Safeway's weekly ad coupon matchup page.  Stay updated on the best deals by following Super Safeway on Facebook, on Twitter, on Instagram, or Pinterest and subscribe to our newsletter.
* Please note – Savings information is based on Colorado pricing and the Safeway Coupon Policy for the Denver Division which includes Colorado, Nebraska, New Mexico, Wyoming and South Dakota. Your market may vary. *