NEW KITU Life Super Coffee
If you are following a low carb or KETO diet, or if you are a coffee lover looking for a healthier alternative to the sugary coffee drinks on the market, give new KITU Life Super Coffee a try.    While other bottled coffees load up on sugar and other unhealthy ingredients, Super Coffee combines iced coffee, whey protein, MCT oil and just a touch of monk fruit extract – a protein coffee that you can't put down.
Super Coffee is packed with 200mg of caffeine, 10g of protein and 0g of sugar. The perfect keto coffee for a low carb diet.
KITU Life Super Coffee 12 oz on sale for $2.99 through August 12th

Load Just for U Digital Coupon for $.75 off 1 KITU Life Super Coffee Product
and submit ibotta cash back offer for $.50 back on Super Coffee 12 oz bottles, limit 3
Final Price = $1.74
KITU Life Super Coffee 11 oz $2.49 every day at Safeway

Load Just for U Digital Coupon for $.75 off 1 KITU Life Super Coffee Product
Final Price = $1.74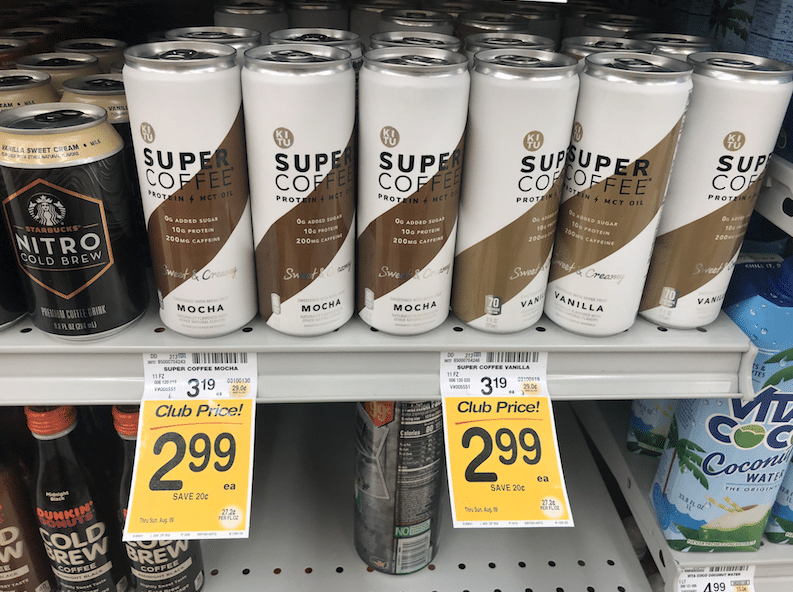 Check out the newest printable coupons for extra savings at Safeway here:
Coupons powered by Coupons.com
SuperSafeway is a blog devoted to helping you find the best deals at Safeway in the Denver division.  Every week we find and share the best advertised and unadvertised deals at Safeway with and without coupons.  We also share recipes and weekly meal planning ideas based on sales to maximize your savings.  For more low prices, check out Super Safeway's weekly ad coupon matchup page.  Stay updated on the best deals by following Super Safeway on Facebook, on Twitter, on Instagram, or Pinterest and subscribe to our newsletter.
* Please note – Savings information is based on Colorado pricing and the Safeway Coupon Policy for the Denver Division which includes Colorado, Nebraska, New Mexico, Wyoming and South Dakota. Your market may vary. *