New Open Nature Wild Caught Shrimp and Salmon 
If you are a fan of eating wild-caught USA sourced seafood products like I am, then you will be thrilled to know you can save $2 on Open Nature Wild Caught Shrimp and Sockeye Salmon right now.  While wild-caught products are naturally more expensive than their farmed counterparts, but they are also healthier and in my opinion more flavorful alternatives.
Last week I was testing my Saganaki Shrimp recipe for a way to make it on the stove top (recipe coming soon).  I picked up the Open Nature peeled and deveined shrimp for my recipe and I am so glad I did!  The time to prepare the recipe was cut in half because I did not have to peel, devein and remove shrimp tails. I simply poured the shrimp into the colander to thaw under cold water and it was ready in no time.  Totally the way to go for a weeknight meal.  Yes, more expensive, but time = money too!
Open Nature Wild-Caught Raw Shrimp Shell-on 16 oz  21-30 ct./lb. $14.99
Open Nature Wild Caught Raw Shrimp 16 oz 31-40 ct/lb. $16.99
Open Nature Salmon 12 oz on sale for $12.99 through Dec. 31st
While we are talking about Open Nature Wild-Caught products, be sure to also check out the Open Nature Wild Sockeye Salmon Fillets at your local Safeway – I happen to think this is great value for what you get.  I picked up a 1 lb. fillet on sale last week for $9.99 and it fed the 5 of us in a delicious sheet pan dinner I made with asparagus and tomatoes.  Salmon is so good for you and makes an appearance on my dinner table at least once a week!
Here are a couple of delicious shrimp and salmon recipes you can make using these wild-caught seafood products
Roasted Shrimp and Asparagus Salad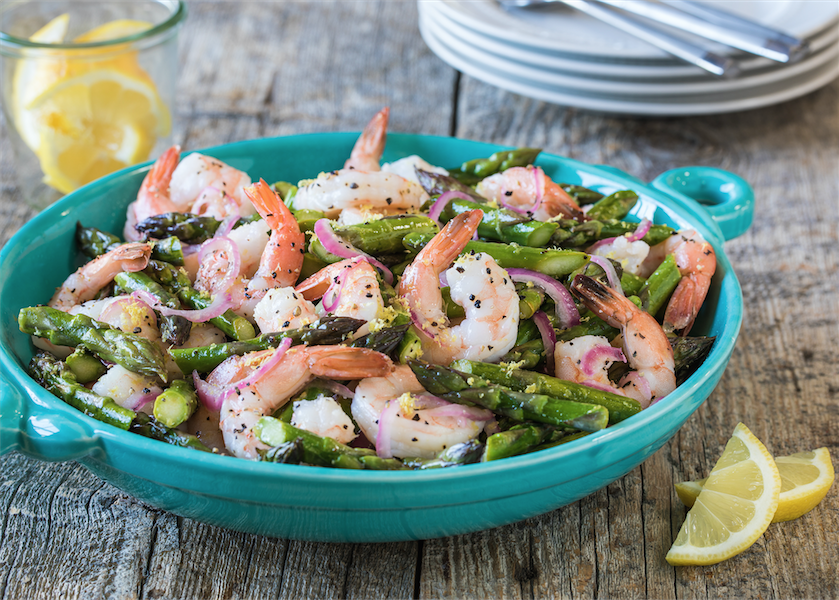 Roasted Salmon with Greek Orzo Spinach Salad
SuperSafeway is a blog devoted to helping you find the best deals at Safeway in the Denver division.  Every week we slice and dice the ad and tell you the best deals at Safeway with and without coupons.  For more low prices, check out Super Safeway's weekly ad coupon matchup page. Want to stay updated on the best deals? If so, make sure to like Super Safeway on Facebook, join our Facebook group, follow us on Twitter, Instagram, or Pinterest and subscribe to our newsletter.
* Please note – Savings information is based on Colorado pricing and the Safeway Coupon Policy for the Denver Division which includes Colorado, Nebraska, New Mexico, Wyoming and South Dakota. Your market may vary. Prices may vary per location*