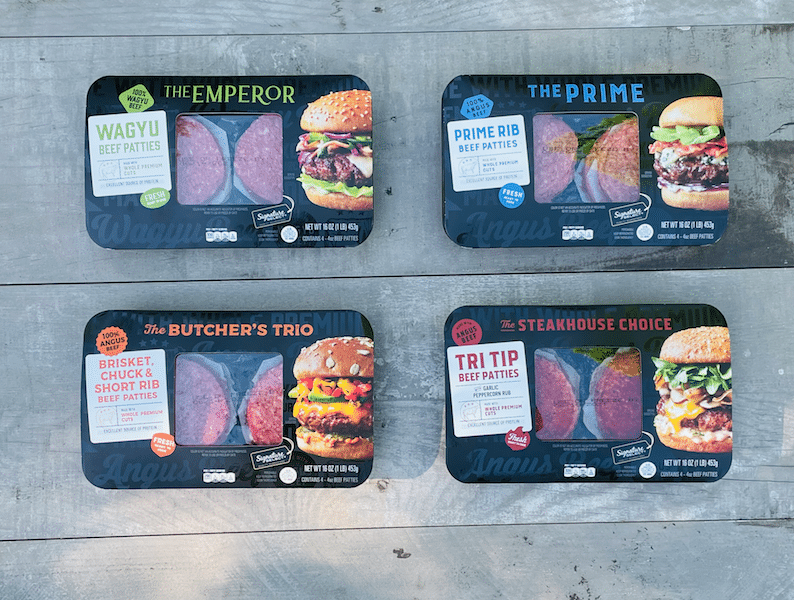 Signature SELECT Premium Beef Burger Patties
Get the grill hot and ready for a gourmet burger experience this summer, thanks to Safeway's new Signature SELECT Premium Beef Patties. The fresh beef patties are made with premium whole cuts of beef that are ground and formed into burger patties.
There are four varieties of the new fresh burger patties, each unique and incredibly flavorful because of the higher quality beef cuts used.
The Emperor patties are made with 100% Wagyu Beef, which has a unique taste and tenderness of highly marbled Wagyu beef that makes for an unrivaled eating experience. Wagyu beef is a Japanese beef cattle breed known for its prized marbling and tenderness.
The Prime patties are made with 100% Angus beef ground ribeye, or prime rib. The patties have great marbling and are tender
The Steakhouse Choice patties are made with ground Angus Beef Tri-Tip, perfectly seasoned with garlic and peppercorns. The tri-tip is a triangular cut of beef from the bottom sirloin. The patties are incredibly flavorful with the addition of garlic and peppercorns.
The Butcher's Trio patties are made with 100% Angus beef of ground brisket, chuck, and short-rib patties.
Gourmet Burger Serving Suggestions
To elevate your burger experience above and beyond a plain burger, each package gives a chef's serving suggestion that matches the image of the burger on the packaging.
For the Wagyu Burger, they suggest an Asian-inspired burger of the Wagyu Beef patty with wasabi mayo, butter lettuce, Monterey Jack cheese, sauteed shiitake mushrooms, and an Asian slaw of red cabbage, carrots, cucumbers, and cilantro.
For the Prime Burger, they suggest the Prime Rib Beef Patty with blue horseradish & chive aioli, sliced red onion, cambozola cheese, and crispy pancetta disks, and butter lettuce.
The chef's serving suggestion for the Butcher's Trio is the brisket, chuck, and short rib patty with orange ancho chili mayo, pickle chips, cheddar cheese, avocado slices, roasted corn, orange & green bell pepper & cilantro salsa.
If you haven't yet tried a brioche bun for your burgers, I highly recommend a toasted brioche bun for these premium burgers. The buttery brioche bun enhances the gourmet burger experience as much as the toppings on the burger. Safeway offers several brioche buns in the bakery.
Cooking instructions for perfect burgers
To cook the patties, pre-heat the grill to medium-high heat and oil the grates with an oil-coated paper towel. Cook the patties for 3 to 3 1/2 minutes on each side for perfect burgers.
If you plan to cook the burgers on the stovetop, preheat a skillet over medium-high heat. Add 1 tablespoon of oil. Add the fresh patties to the skillet and cook for 3 to 3 1/2 minutes on each side.
Review of the Signature SELECT Premium Burgers:
I purchased all four packages to try and they are all fantastic in their own way. My family's favorite was The Steakhouse Choice burger with the garlic and peppercorn flavor.
My husband said, "they are worth every penny – juicy, full of flavor, and memorable". Pictured below is the steakhouse burger on a brioche bun with sliced tomato, cheese, grilled onions, sauteed mushrooms and fresh arugula.
The new premium beef patties retail for $7.99 a package and are available exclusively at Safeway and Albertsons company stores. You can find the patties in the fresh beef case of your local store.
Be sure to let us know your review after trying these burgers in the comments below.
SuperSafeway is a blog devoted to helping you find the best deals at Safeway in the Denver division. Every week we slice and dice the ad and tell you the best deals at Safeway with and without coupons.
For more low prices, check out the Safeway weekly ad and the Safeway coupon matchup page. Would you like to stay updated on the best deals? If so, make sure to like Super Safeway on Facebook, join our Facebook group, follow us on Twitter, subscribe to our Instagram, or head over to Pinterest. Also, make sure to subscribe to our newsletter.
* Please note – Savings information is based on Colorado pricing and the Safeway Coupon Policy for the Denver Division which includes Colorado, Nebraska, New Mexico, Wyoming and South Dakota. Your market may vary. Prices may vary per location*