The Village Pie Maker Pies – Now Available at Safeway
Nebraska natives likely know all about The Village Pie Maker Pies and if you are from Colorado and have driven through Nebraska – you may also know of the famous pies. Now you can pick up the amazing, delicious homemade pies at your local Safeway.
I had the pleasure of receiving a cherry pie from a friend from North Platte on Labor Day and it was the BEST pie I have ever tasted. Fresh cherries, tart, yet sweet, bursting with flavor, and the crust was so flaky and delicious! You can tell they use fresh cherries, not the canned stuff, and real ingredients for the crust.
If you want a delicious pie for your Thanksgiving table – look no further than the frozen department at your local Safeway where a shipment of fresh pies from the Village Pie Maker have just arrived!
While the iconic white packaging may lack any colorful branded photography, don't let that fool you – the pies are full of flavor, texture, and a crisp pastry crust.
The pies are less expensive at Safeway than they are to buy direct from the Village Pie Maker. They sell their pies online for $19.99, but at Safeway, you can buy the handmade gourmet pies for just $12.99.
I know that is more than Mrs. Smith's pie – but trust me, the quality, ingredients, and handcrafted nature of these pies justify the cost – and you'll be supporting a local small business with your purchase!
That's a win, win, win in my book!
Scratch pastry crust with no trans-fat, and no preservatives, just homemade goodness.
Village Pie Maker Pie Flavors
Choose from the following pie flavors.
Apple Pie – Luscious. Fragrant. Authentic. The Apple Pie showcases a light and fluffy, butter casing generously layered with sweet, ripe Granny Smith apples. With a succulent, orchard-sized taste, this American staple is always a family favorite.
Cherry Pie – Red, ripe and true. This gourmet pie reminds us that Apple isn't the only all-American favorite in town. Bright, fragrant, fruit filling cradled in our handmade buttery crust is delicious straight out of the oven, with a scoop of old fashioned vanilla ice cream, or as a late-night snack.
Berry Medley – "What do you get when you combine vine-ripened blueberries, blackberries, strawberries, and raspberries in a flaky buttery crust?" It's an all-out, sweet, and sour fruit explosion! The only thing that can top this colorful pie is a scoop of your favorite ice cream.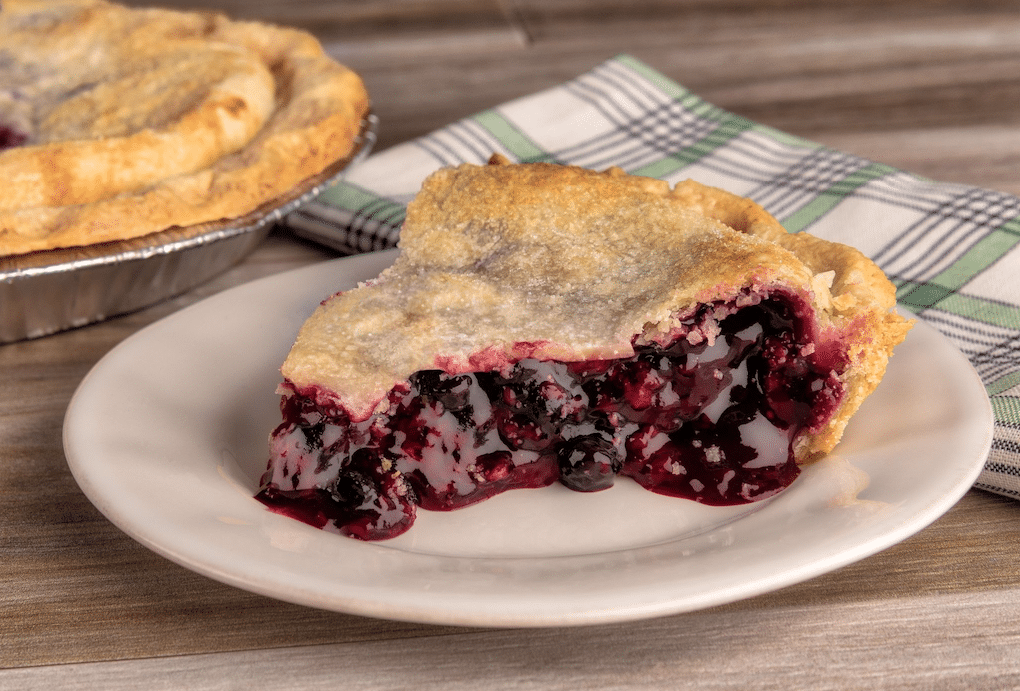 Blackberry Pie – Fragrant vine-ripened blackberries create the perfect symphony of sweet and tart flavors. Citrus notes in perfect harmony with deep berry richness and a delectably flaky crust bring you one of our greatest hits. (Encore: high in antioxidants)
Peach Pie – Very few things are as lovely as thick-sliced, perfectly sweet peaches baked inside a light buttery crust. It's a simple classic beauty—and one that makes this delectable pie irresistible. As you enjoy your second slice, you may realize a newfound appreciation for the large 10" deep-dish presentation, which is only outsized by the irresistible flavor.
Strawberry Rhubarb Pie – Not just a fan favorite, but one of our favorites as well. Sweet strawberries and tart rhubarb is a tantalizing match made in heaven. This perfect flavor combination is always ready to meet you for breakfast, lunch or dinner. Cloaked in our buttery hand-crimped crust, this delectable pie is always dressed for the occasion.
Sale on Village Pie Maker Pies
The Village Pie Maker Pies 10 inch, 3 lb. pie. on sale for $12.99 through Nov. 29th
Pair with the HOT sale on Signature SELECT Ice Cream – just $1.99 now through November 17th for a pie a la mode dessert this month!
SuperSafeway is a blog devoted to helping you find the best deals at Safeway in the Denver division. Every week we slice and dice the ad and tell you the best deals at Safeway with and without coupons. For more low prices, check out Super Safeway's weekly ad coupon matchup page. Want to stay updated on the best deals? If so, make sure to like Super Safeway on Facebook, join our Facebook group, follow us on Twitter, Instagram, or Pinterest and subscribe to our newsletter.
* Please note – Savings information is based on Colorado pricing and the Safeway Coupon Policy for the Denver Division which includes Colorado, Nebraska, New Mexico, Wyoming and South Dakota. Your market may vary. *