How to Cook a Prime Rib Roast
While ham or lamb are common Easter dinner proteins, this year you can elevate your Easter celebration by serving a Prime Rib Roast.
Safeway actually has two amazing Ribeye Roast sale prices running through April 6th. If you want to buy the whole ribeye roast in the bag, that is just $5.77 per lb. with a Just for U Digital Coupon, limit 1. This cut is the full prime rib that has 7 ribs and is an untrimmed, untied bone-in slab of beef, which is anywhere from 18 – 22 pounds, untrimmed.
Signature Cut Oven-Ready Prime Rib Roast Sale Price
The better value, in my opinion, is the Signature Cut Oven Ready Ribeye Roast priced at just $6.77/lb. which is hand-trimmed and tied in the store by your local butcher to the size specification that you want. They will even add an Herb-Crusted Roast Rub if you want. Simply stop into your local Safeway store and speak with the butcher about the size and let them know when you want to pick it up.
The best part about getting your ribeye roast at Safeway is that the beef is from local Colorado ranchers, so not only are you are supporting the local ranching community with your purchase, you are getting the freshest beef possible as it didn't have to travel very far from the ranch to the store.
Bonus – you'll get a free pop-up timer included with any ribeye roast purchase from Safeway. The timer will pop as soon as the roast is medium-rare. If you want the roast cooked through, even more, you can cook it to 160 degrees for a medium roast – but you don't want to go any higher than that otherwise the roast will be overdone!
How Much Prime Rib Per Person
First, you'll need to decide how much to buy. A full prime rib roast is 7 ribs, close to 18 – 22 pounds, and will feed 16 – 20 people. For a generous serving of roast, plan for two people per rib. Use this rule of thumb as your guide:
for 6 people, buy a 3 rib roast
for 8 people, buy a 4 rib roast
for 10 people, buy a 5 rib roast
for 12 – 14 people, buy a 6 rib roast
for 16 people or more, buy a 7 rib roast and so on
Prepare the Roast for Cooking
Tie the Prime Rib: It is essential to tie the prime rib before roasting. If left untied, the outer layer of meat will pull away from the rib-eye muscle and get overcooked. To prevent this, tie the roast on both ends running the cooking twine parallel to the bone. Safeway sells an oven-ready prime rib roast that the butcher will trim, tie, and even season for you! This is totally the way to go!
Let the roast come to room temperature: Remove the roast from the refrigerator about 2 to 4 hours before cooking to let it come to room temperature so that the roast cooks evenly. If the roast is still cold when you cook it, the cooking time will be longer and you will end up with well-done slices on the end and raw meat in the middle. The time to come to room temperature may vary depending on the size of your roast.
Season the roast with a dry rub of 3 teaspoons of each: salt, pepper, garlic powder, rosemary. For deeper garlic flavor, you can score the top of the meat, where the fat is, and add cloves of garlic.
Cook the roast by placing the roast fat side up in a large roasting pan; uncovered. Bake at 400° for 1 hour (for a 4-5 rib roast). Cover and bake 1-1/2 to 2 hours longer on 350° temperature or until meat reaches desired doneness (for medium-rare, a meat thermometer should read 145°; medium, 160°; well-done 170°). Let stand for 15 minutes before slicing.
You'll have a delicious meal that everyone will rave about for years to come.
Prime Ribe Roast Recipes
Get the recipe for this Perfect Prime Rib Roast here.
Prime Rib Roast With Red-Wine Cherry Sauce
If you want to serve an extra special sauce with your roast, be sure to check out this recipe for Prime Rib Roast with Red-Wine Cherry Sauce.
This recipe incorporates a dry rub for roasting the beef and then you create a delicious red wine cherry sauce that you can use for serving the roast once it's finished cooking. The sweetness of the cherries marries perfectly with the savory spices to add complexity and depth of flavor to your roast.
Peppered Ribeye Roast with Roasted Garlic Sauce
This recipe uses a simple seasoning mix of salt, pepper and fresh parsley that is rubbed into the meat before roasting. While roasting the beef, you can also roast a couple of heads of garlic to make a delicious, creamy roasted garlic sauce to serve with the roast.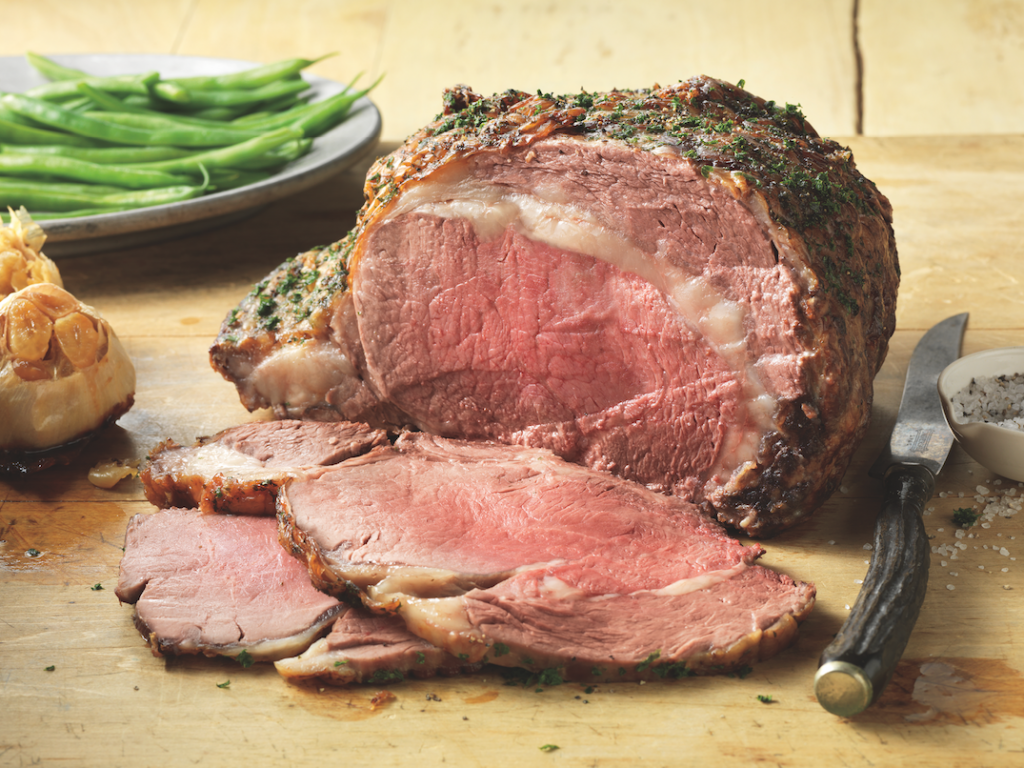 See all the best deals at Safeway for your Easter meal here.
SuperSafeway is a blog devoted to helping you find the best deals at Safeway in the Denver division. Every week we slice and dice the ad and tell you the best deals at Safeway with and without coupons. For more low prices, check out Super Safeway's weekly ad coupon matchup page. Want to stay updated on the best deals? If so, make sure to like Super Safeway on Facebook, join our Facebook group, follow us on Twitter, Instagram, or Pinterest and subscribe to our newsletter.
* Please note – Savings information is based on Colorado pricing and the Safeway Coupon Policy for the Denver Division which includes Colorado, Nebraska, New Mexico, Wyoming and South Dakota. Your market may vary. Prices may vary per location*