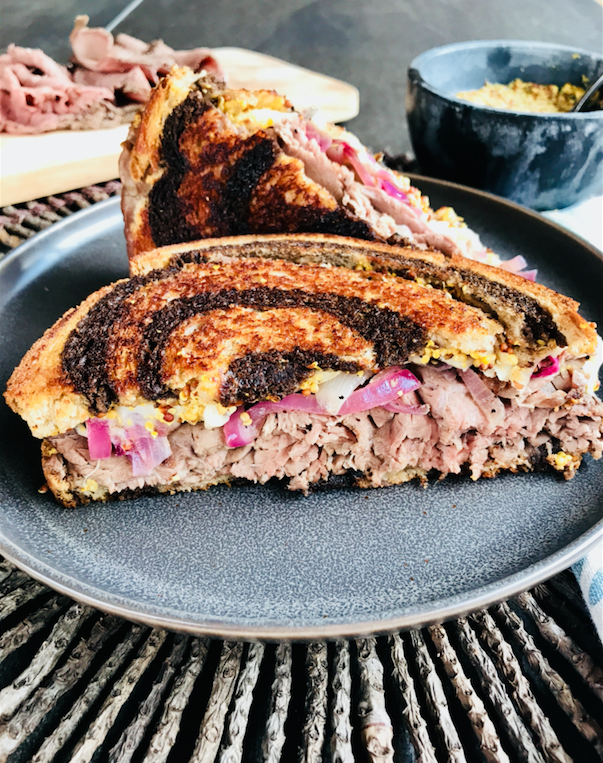 Roast Beef Grilled Cheese with Caramelized Onions
Nothing beats a Roast Beef Grilled Cheese Sandwich with caramelized onions and grainy dijon mustard on whole grain or rye toast.  This is an easy and delicious recipe you can pull together for a weeknight meal.  I always like to use a chuck roast or cross rib roast to make homemade roast beef sandwiches, but there is something about the thin slices of roast beef from the deli that I just can't recreate at home.  Could be the slicing machine, or it could be the fact that my roast beef falls apart as soon as I remove it from the crock pot.
Safeway offers a new Open Nature Roast Beef in the deli that is all natural, made with Top Round Beef with no antibiotics, no hormones, artificial flavors or colors.  The roast beef is crusted with cracked black pepper and salt to bring out the delicious natural beef flavor.   A small amount of vinegar is used as a natural preservative for shelf life.  The new Open Nature Roast Beef has a clean, beefy taste and is great for snacking for those on a low carb diet, or anytime!
You can have the Safeway deli manager slice the roast beef as thick or thin as you like it and serve with a variety of toppings.  Our family loves roast beef and I'm always trying new ideas in the kitchen to mix up the same old recipes.  When I spotted the new Open Nature Roast beef in the deli, I was excited to try it because my three kids like some variety to their daily sack lunches.  PB&J and turkey and cheese sandwiches get old after a while, but when you mix it up with a roast beef sandwich, the kids are more likely to eat their entire lunch.  I love the fact that it's all natural with no hormones or antibiotics!  I can feel good about serving it to my kiddos.
The Open Nature Roast Beef incredibly flavorful, with a peppery crust in every bite.  Perfect with grainy mustard or horseradish or eve on a crusty roll and some warm au-jus as a French dip sandwich.  I was impressed at the freshness of the deli meat,  it was still slightly pink when the deli manager sliced it, which is just how we like it!
This recipe is incredibly easy to pull together and requires only 5 simple ingredients – roast beef, sliced bread, cheese, grainy mustard and onions (I prefer red for caramelizing).  The most time consuming element is the caramelized onions because they take about 20 – 30 minutes to properly caramelize to bring out their natural sweetness.  While the onions are cooking, you can butter the bread, heat the skillet or if you are making multiple sandwiches, heat the griddle and start assembling.  Be sure to make an extra sandwich to take for lunch the next day as it tastes great cold as well.
Roast Beef Grilled Cheese Sandwiches
This delicious roast beef grilled cheese sandwich with caramelized onions and grainy dijon mustard is an easy weeknight meal
Print
Pin
Rate
Ingredients
1

large red onion

sliced

2

tablespoons

butter

divided

2

slices

of bread

1/4

pound

sliced roast beef

3-4

ounces

sliced provolone cheese

1

teaspoon

grainy dijon mustard
Instructions
Melt 1 tablespoon of the butter in a large skillet over medium heat.

Once the butter is melted, add the onions. Toss to coat all the onions in the butter, reduce the heat to medium-low and let the onions saute slowly for 30 minutes, stirring frequently. After 30 minutes they should perfectly caramelized.

Use the remaining tablespoon of butter to spread on one side of each slice of bread.

With the buttered side facing down, layer half the cheese slices on top of the bread, then lay the roast beef on top of the cheese, followed by 2 tablespoons of caramelized onions.

Top the onions with the remaining cheese and the grainy dijon mustard and then the other slice of bread with the buttered side facing up.

Transfer the sandwich to a skillet over medium heat and cook until the cheese is melted.

After 2 - 3 minutes, flip the sandwich over and repeat. The first side should be a nice golden brown.

Once the other side is golden brown and the cheese is melted, remove from the skillet, cut in half and serve.
This is a sponsored post on behalf of Safeway to introduce you to the new Open Nature Roast Beef.  It costs $10.99 per lb. and is all natural, antibiotic and hormone free, and tastes amazing!  We appreciate you supporting the brands that make this site possible.
SuperSafeway is a blog devoted to helping you find the best deals at Safeway in the Denver division.  Every week we post a preview of the Safeway weekly ad and we slice and dice the ad and tell you the best deals at Safeway with and without coupons.  We also highlight the best month long deals from the Safeway Big Book of Savings.  For more low prices, check out Super Safeway's weekly ad coupon matchup page. Want to stay updated on the best deals? If so, make sure to like Super Safeway on Facebook, join our Facebook group, follow us on Twitter, Instagram, or Pinterest and subscribe to our newsletter.
* Please note – Savings information is based on Colorado pricing and coupon doubling policy for the Denver Division which includes Colorado, Nebraska, New Mexico, Wyoming and South Dakota. Your market may vary. Prices may vary per location*