Scallop Scampi Recipe
Succulent scallop pieces tossed in a garlic, butter, wine sauce served with angel hair pasta are perfect in this scallop scampi recipe.
If you love scallops, you will love this announcement! Safeway has wild caught scallops on sale today only (Friday, 3/8) for $5.99 for one pound with a Just for U Digital Coupon.
These are the scallop pieces we introduced you to last year – perfect for adding to pasta, risotto or serving over a salad for a quick and healthy seafood meal!  Perfect for Lent!
Safeway is now carrying scallops in the seafood department and we've partnered with Safeway to create a recipe around the new scallop pieces.  This is great news as it's always a challenge to find fresh scallops in our land locked state, but now you can create any scallop recipes to your hearts desire with frozen scallops from Safeway.
When I was originally asked to review this product, I assumed it was whole scallops, so I was busy creating recipes for a seared scallop dish, but when I actually bought the scallops and discovered they were scallop pieces, not whole scallops, I was excited for a challenge to create the perfect recipe to use these large scallop pieces.
Scallop scampi with pasta is a great dish for scallop pieces because they get take on the wonderful garlic, lemon flavors of the sauce and get tossed into the pasta where you'll get a delicious taste of scallop in every bite!
Pick up a one pound bag of frozen scallop pieced in the seafood department at your local Safeway and where you'll find them on sale for just $9.99 through April 29th.  This is a phenomenal value for scallops that are perfect for using in pasta dishes, a seafood stew or as a topping to any other fish when you chop them up and pair with breadcrumbs and lemon juice.  I'll share a recipe for that yet this week.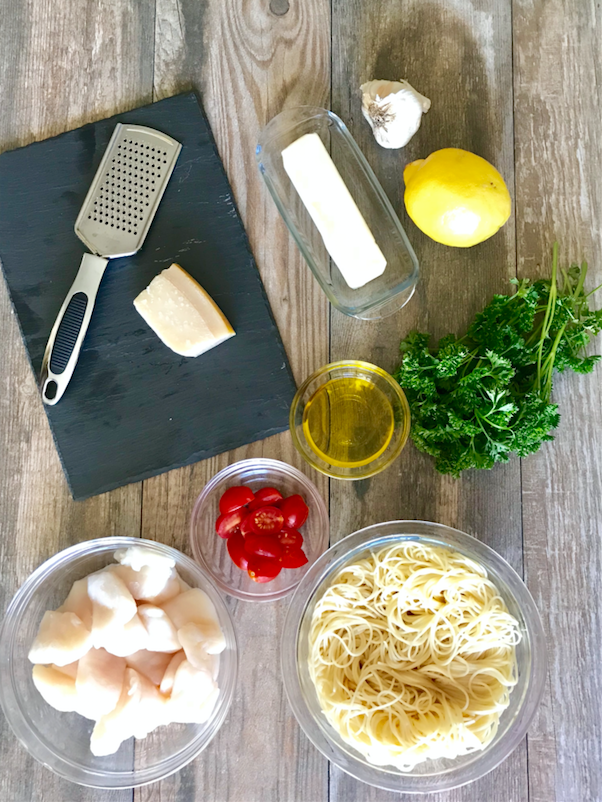 How to Cook Scallop Scampi
To prepare the scallop scampi recipe, first thaw the frozen scallop pieces in a bowl filled with cold water.  Drain the water and pat the scallops dry with a paper towel so that they sear properly in the skillet.
You'll heat oil and butter in a skillet and add the scallop pieces to a medium hot pan so that they get seared.  Next, add garlic, white wine and lemon juice as well as chopped cherry tomatoes and you'll reduce the sauce by half to intensify the lemon garlic flavor and to burn off any alcohol flavor from the wine.
I served for dinner with grated Primo Taglio Parmigiano Reggiano and even my kiddos loved the scallops and the sauce.  They were licking their plates clean of the last bits of sauce, which is the highest compliment I can receive because I know they really liked it when they do that!  Of course, I don't encourage that and hope they never do it in public.
Scallop Scampi Recipe
Succulent scallop pieces simmering in a garlic lemon butter sauce served over angel hair pasta with cherry tomatoes and parmigiano reggiano cheese.
Ingredients
Kosher salt

1

lb

angel hair pasta

1

lb

sea scallops or scallop pieces

2 1/2

tablespoons

unsalted butter

2

tablespoons

extra virgin olive oil

2

tablespoons

freshly squeezed lemon juice, plus zest

1/2

cup

dry white wine

2

cloves

garlic, minced

2

tablespoons

chopped fresh parsley

1/2

cup

cherry tomatoes, halved
Instructions
Bring a large pot of salted water to a boil. Add the pasta and cook according to package directions until al dente.

Meanwhile, heat a large skillet over medium-high heat. Pat the scallops dry, then season with salt and pepper.

Add olive oil and butter to skillet and and cook the scallops until golden on one side, about 3 minutes. Turn the scallops and add the garlic; cook until the garlic is fragrant 1 to 2 more minutes.

Add the lemon juice and wine and bring to a boil. Cook until the sauce is reduced by half, about 3 minutes.


Drain the pasta and transfer to the skillet (or a large serving bowl if the skillet is not large enough). Toss with the scallops and sauce; garnish with parsley and lemon
Be sure to pin this recipe for later here.  If you prepare any of the recipes we share, be sure to tag us on Instagram for a chance to be featured!
This is a sponsored post and as always opinions are our own.  We appreciate you supporting the brands that make this site possible.
SuperSafeway is a blog devoted to helping you find the best deals at Safeway in the Denver division.  Every week we slice and dice the ad and tell you the best deals at Safeway with and without coupons.  For more low prices, check out Super Safeway's weekly ad coupon matchup page. Want to stay updated on the best deals? If so, make sure to like Super Safeway on Facebook, follow us on Twitter, Instagram, and subscribe to our newsletter.
* Please note – Savings information is based on Colorado pricing and the Safeway Coupon Policy for the Denver Division which includes Colorado, Nebraska, New Mexico, Wyoming and South Dakota. Your market may vary. *