Meatless Meal Ideas for Lent
Lent is on the horizon, therefore it's the perfect time to get a game plan in place for Meatless Meals for Lent that you can incorporate into your family's meal routine without a ton of effort. Also perfect for Meatless Mondays throughout the year.
Whether you follow a full vegan Lent, or simply abstain from meat, we've provided 15 delicious and easy to make Meatless Meals for Lent so that you are not stuck making fish sticks and French fries or grilled cheese and tomato soup every Friday night. This list allows you to be purposeful and plan ahead for Lent rather than get caught by surprise on Fridays during Lent thinking about what to serve for breakfast, lunch, and dinner.
Rules for Meatless Lenten Meals
The rules for Lent vary widely, but the one thing many Lent celebrating Christians have in common is that meat is not consumed on the Fridays during Lent as a form of penance. Lent begins for Catholics on Ash Wednesday and meat is not consumed on Ash Wednesday or each of the six Fridays during the 40 days of Lent.
Some Eastern Orthodox followers actually follow a strict vegan fast for the full 40 days of Lent, others fast every Wednesday and Friday, so this list will just be scratching the surface if you follow a strict fast as some of the recipes below use dairy, eggs, and cheese, which would not be allowed.
Seafood such as fish, lobster, shrimp, scallops and crab is allowed during Lent because such items are not considered meat. This opens up the culinary options to many delicious seafood meals that can be consumed during the Lent, or for any meatless Monday throughout the year.
Easy Lent Meal Ideas Ready in 30 Minutes or Less
Meal planning for Lent doesn't have to be difficult or time-consuming, but you do need to have a plan. Here are a few ideas that can be made with pantry and refrigerator staples. See below for additional options that will leave you feeling satiated, and not miss meat at all.
Grilled cheese and tomato soup
Tuna Sandwiches wraps or melts – this Easy Mediterranean Tuna Wrap Served in a Romaine lettuce cup is a great lunch or dinner option
Bean and cheese quesadillas
Green chile, potato, and egg casserole – breakfast for dinner is always popular during Lent
Fish stick tacos. Don't just serve fish sticks – make them tempting by serving in a tortilla with shredded cabbage, salsa, and avocado
Tofu and veggie stir-fry over rice
Buffalo Cauliflower bites – this recipe using Frank's Red Hot Sauce is fabulous.
Meatless Tortilla Soup – use black beans, corn, veggie broth, hominy, canned tomatoes and spices topped with tortilla strips and fresh avocado
Black Bean Sweet Potato Nachos
Black beans, avocado, sweet potatoes, sweet peppers, several of our favorite foods, layered to create heartier, healthier nachos that are perfect for Lent. You won't miss the meat at all! Get the recipe here.
Shrimp and Black Bean Ceviche
Put a tasty spin on traditional ceviche. Blend black beans, avocado, scallion, tomato and sriracha with lime and salt, and of course, shrimp! Serve with tostadas. Get the recipe here.
Roasted Shrimp and Asparagus Salad
This Shrimp and Asparagus salad and homemade vinaigrette is ready in just 10 minutes and is great for weeknight meals. If you are feeling ambitious, Add a 1/4 cup chopped dill or basil for a fresh herb flavor. Get the recipe here.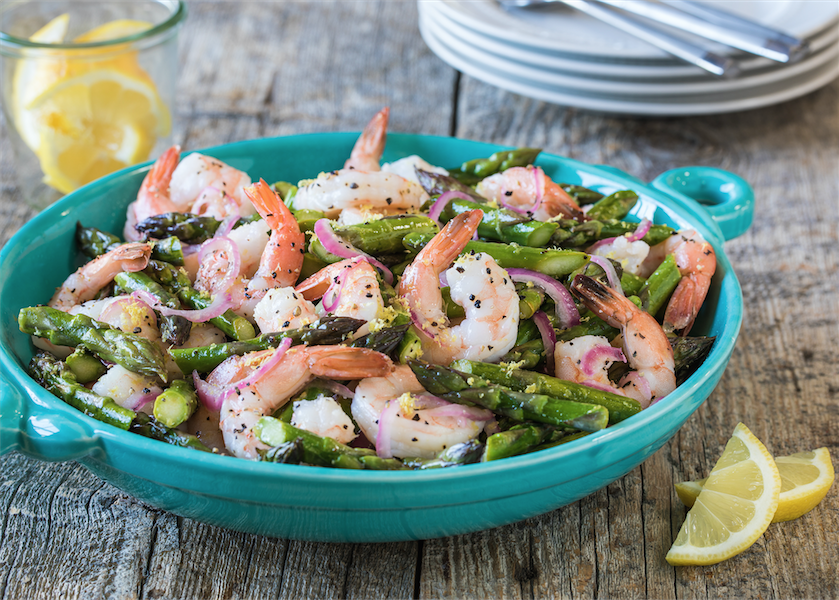 Shrimp Tacos With Creamy Avocado Tomatillo Salsa
Whether you're looking for a new recipe for Taco Tuesday or grilling with friends on the weekend, our Shrimp Tacos with Creamy Avocado Tomatillo Salsa fit the bill. And you'll want to put the salsa on everything! Make some extra to serve with tortilla chips. Get the recipe here.
Grilled Chipotle Fish Tacos
Spice up your Friday night dinners with these Grilled Chipotle Fish Tacos! Use cod, or any firm white fish and simply grill the fish for three minutes on each side, warm up the tortillas and pile on the toppings. Get the recipe here.
Creamy Tilapia and Shrimp Stew
Serve up something unexpected for Lent with this Creamy Tilapia and Shrimp Stew. White wine, lemon juice, and cream combine to create a rich, flavorful soup that is sure to satisfy. Serve with crusty bread or oyster crackers! Get the recipe here.
Fish and Chips Salad
Put a new twist on Fish and Chips! If you want your chips extra crispy, make sure to fully dry the potatoes before cooking. Water will steam (rather than crisp) the potatoes! Use salmon or steelhead trout as the main star of the show. Get the recipe here.
Salmon Teriyaki Lettuce Wraps
Salmon Teriyaki Lettuce Wraps can be on the table in about 20 minutes. Use our Signature SELECT™ marinade to flavor salmon filets, then serve with bell peppers, jicama, onions and macadamia nuts. Yum! Get the recipe here.
Curried Egg Salad
Give your egg salad a kick with curry! We love this recipe because it's got more flavor with less fat—we substitute avocado for mayonnaise to bind the ingredients. Finish it off with veggies, then serve on whole-grain bread or over lettuce or baby spinach. Get the recipe here.
One Pan Linguini With Salmon
Start the week on a healthy note! Cherry tomatoes, basil and red pepper flakes add color and flavor to this fresh and yummy dish. We recommend serving over pasta with freshly grated Parmesan and fresh basil to garnish. Bon appetit! Get the recipe here.
Vegan Lent Options
Creamy Black Bean Soup
Delight your tastebuds with this Super-Delicious Black Bean Soup recipe! Not only is it super simple, but hearty and extra delicious. Top with scallions, avocado, corn kernels and enjoy! Get the recipe here.
Spicy Black Bean & Sweet Potato Soup
With onion, sweet potato, fire-roasted tomatoes, spinach, black beans and corn, this one-pot recipe is filled with veggies. For an added punch of spice, try adding extra chipotle pepper and for a creamier element, top with diced avocado! Get the recipe here.
Easy Garlic & Lemon Lentils
In a hurry? We've got the perfect dish for dinner or a side. You only need five minutes of prep time to make Garlic & Lemon Lentils. We love this as a main dish with bread and salad, but it's also a great side for a variety of proteins. Get the recipe here.
Roasted Red Pepper & Cauliflower Soup
Shake up your soup repertoire! Creamy Roasted Cauliflower & Red Pepper Soup is filling and flavorful. Onion and red pepper blend beautifully with paprika, rosemary and garlic. Try substituting thyme for rosemary as a variation. Get the recipe here.
Roasted Chickpeas and Asparagus Salad
Roasted Chickpeas, Asparagus, and Tomatoes complements a variety of dishes as a side or can stand on its own as a healthy meal. Serve it over steamed rice for a delicious vegan meal. Get the recipe here.
What are your favorite meatless meals for Lent? Let us know in the comments below.
SuperSafeway is a blog devoted to helping you find the best deals at Safeway in the Denver division. Every week we slice and dice the ad and tell you the best deals at Safeway with and without coupons. For more low prices, check out Super Safeway's weekly ad coupon matchup page. Want to stay updated on the best deals? If so, make sure to like Super Safeway on Facebook, join our Facebook group, follow us on Twitter, Instagram, or Pinterest and subscribe to our newsletter.
* Please note – Savings information is based on Colorado pricing and the Safeway Coupon Policy for the Denver Division which includes Colorado, Nebraska, New Mexico, Wyoming and South Dakota. Your market may vary. Prices may vary per location*