What to Make with Frozen Cooked Shrimp
Safeway has a fabulous deal on frozen cooked shrimp this week, so I wanted to share some ideas of what to make with the shrimp because this is a great protein to have on hand for quick and easy meals. Precooked shrimp should not be re-cooked, rather it should be eaten cold, or gently warmed through.
It's perfect for adding to salads, soups, used in spring rolls, dips, making bruschetta, and of course eating as a simple shrimp cocktail.
If you're whipping up a quick sauteé with veggies or grains, be sure to add pre-cooked seafood at the last minute. If it has been properly defrosted, the residual heat from the rest of the sauteé will be plenty warm to get your dish to the right temperature.
Sale on shrimp – The Waterfront BISTRO Large Cooked Shrimp 2 lb. bags are on sale for $5.97/lb. or $11.94 each bag. You can load a Just for U Digital Coupon to get the cooked shrimp for just $10.94 a bag, which is $5.47 per lb. That is an amazing price for cooked shrimp!
How to Thaw Frozen Cooked Shrimp
The best way to thaw frozen cooked shrimp is to remove the shrimp from the packaging and place in a large bowl with cold water. This takes time, but you can change the water after 20 minutes or so to speed the process along. You don't want to use hot water to thaw the shrimp because it could create inconsistencies in the shrimp texture and make the shrimp chewy.
Shrimp and Black Bean Ceviche
Put a tasty spin on traditional ceviche. Blend black beans, avocado, scallion, tomato and sriracha with lime and salt, and of course, shrimp! Serve with tostadas. Get the recipe here.
Cucumber and Shrimp Summer Rolls
Try our fresh take on Asian-inspired summer rolls. Shrimp layered with avocado, cucumber, snap peas and micro-greens make a beautiful, delicious, and colorful dish. Get the recipe here.
Caribbean Shrimp Bruschetta
Shrimp cocktail goes Caribbean when paired with allspice and mangoes. Get the recipe here.
Pineapple Shrimp Buddha Bowl
This Pineapple Shrimp Buddha Bowl can easily be taken on the go! Simply layer ingredients in a mason jar (dressing first) and take your lunch on the road! Get the recipe here.
Shrimp & Asparagus Salad
This Shrimp and Asparagus salad with homemade vinaigrette is ready in just 10 minutes and is great for weeknight meals. Use cooked shrimp for a shortcut and let it soak up the delicious vinaigrette in the salad before serving. Get the recipe here.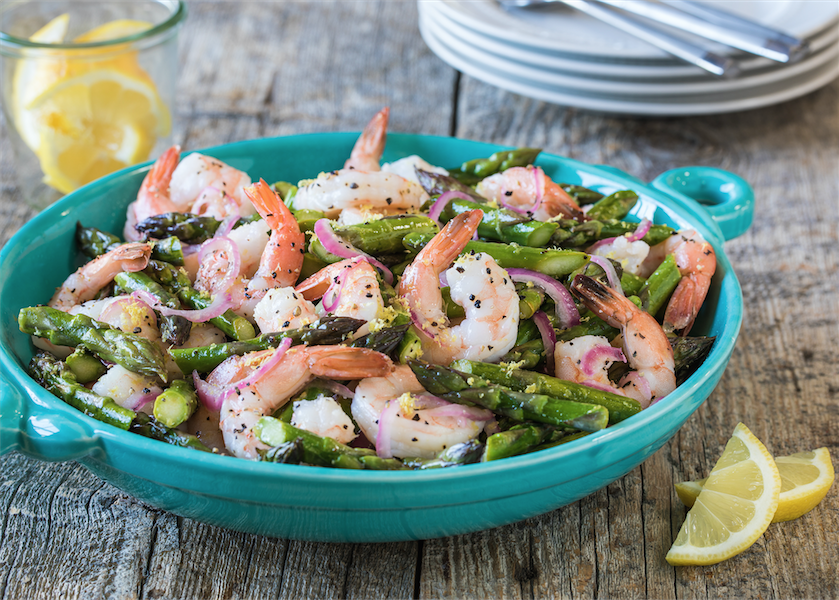 Creamy Tilapia and Shrimp Soup
Serve up something unexpected at your next dinner party with this Creamy Tilapia and Shrimp Stew. White wine, lemon juice and cream combine to create a rich, flavorful soup that is sure to satisfy. Serve with crusty bread or oyster crackers! Add the cooked shrimp during the last few minutes just to heat it through. Get the recipe here.
Shrimp Quesadillas
Layer cheese, green chiles, cooked shrimp and some taco seasoning onto a tortilla. Place the tortilla in a skillet and cook until heated through. Easy peasy dinner in minutes!
Shrimp Cocktail
No recipe required – simply thaw the shrimp and arrange on a platter or dish with your favorite cocktail sauce and some lemon wedges. The perfect effortless appetizer for a weeknight meal or game day entertaining.
SuperSafeway is a blog devoted to helping you find the best deals at Safeway in the Denver division. Every week we slice and dice the ad and tell you the best deals at Safeway with and without coupons. For more low prices, check out Super Safeway's weekly ad coupon matchup page. Would you like to stay updated on the best deals? If so, make sure to like Super Safeway on Facebook, join our Facebook group, follow us on Twitter, subscribe to our Instagram, or head over to Pinterest. Also, make sure to subscribe to our newsletter.
* Please note – Savings information is based on Colorado pricing and the Safeway Coupon Policy for the Denver Division which includes Colorado, Nebraska, New Mexico, Wyoming and South Dakota. Your market may vary. Prices may vary per location*