Waterfront BISTRO Shrimp
Safeway's exclusive and sustainably sourced seafood brand, Waterfront BISTRO offers shrimp, fish and mussels in the seafood department. Choose from farmed raw shrimp, cooked shrimp, wild gulf shrimp, and wild Argentinian Red Shrimp.
In addition to shrimp, the seafood options available under the Waterfront BISTRO brand include farmed Tilapia fillets, Swai Fillets, Wild Alaskan Cod, and Wild Alaskan Pink Salmon.
You can also get sustainably raised mussels, fresh crab, calamari and breaded shrimp products at your local Safeway or Albertsons affiliate.
Available in wild-caught or farm-raised, the farm-raised Waterfront BISTRO Shrimp is sustainably sourced from Indonesia. Safeway carefully selects farm-raised seafood that is either certified or rated by leading third-party sources that have a commitment to high standards for environmental and social responsibility, traceability, and food safety.
For consumers looking for wild-caught seafood, Safeway offers Waterfront BISTRO gulf shrimp, which is caught wild in the Gulf of Mexico off the coast of Texas and Florida.
It has a strong wild shrimp flavor and is delicious in tacos, etouffee, or anytime you want a strong shrimp flavor to shine through.
For more wild-caught seafood options at Safeway, be sure to check out the Open Nature Seafood line, which includes wild shrimp, Key West pink shrimp, sockeye salmon, sea scallops, wild-caught halibut, swordfish, tuna and more.
The following sizes are available in Waterfront BISTRO Raw and Cooked Shrimp
Count Per Pound:
Colossal: Under 15
Extra Jumbo: 16-20
Jumbo: 21-25
Extra Large: 26-30
Large: 31-40
Medium: 41-50
Small: 51-60
Extra Small: 61-70
Salad Style: 71+
10 Tasty Recipes to Make with Frozen Cooked Shrimp
Buying Sustainable Seafood from Safeway
Recipes Using Waterfront BISTRO Shrimp
Roasted Shrimp and Asparagus Salad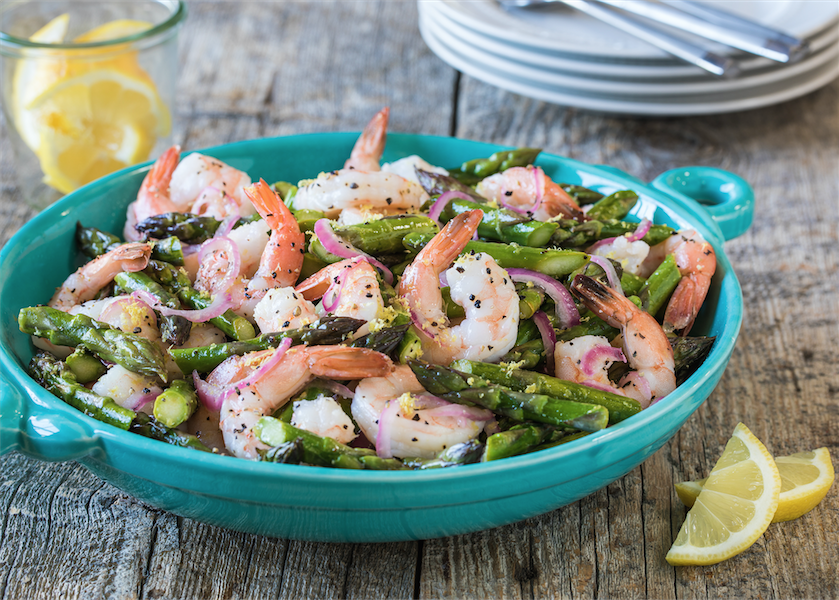 Cajun Shrimp and Avocado Cucumber Bites
Pineapple Shrimp Buddha Bowl Recipe
Easy One-Pan Greek Shrimp With Tomatoes and Feta Recipe
SuperSafeway is a blog devoted to helping you find the best deals at Safeway in the Denver division. Every week we slice and dice the ad and tell you the best deals at Safeway with and without coupons. For more low prices, check out Super Safeway's weekly ad coupon matchup page. Would you like to stay updated on the best deals? If so, make sure to like Super Safeway on Facebook, join our Facebook group, follow us on Twitter, subscribe to our Instagram, or head over to Pinterest. Also, make sure to subscribe to our newsletter.
* Please note – Savings information is based on Colorado pricing and the Safeway Coupon Policy for the Denver Division which includes Colorado, Nebraska, New Mexico, Wyoming and South Dakota. Your market may vary. Prices may vary per location*